ParticiPoll's anonymous audience polling is particularly popular with medical and life science practitioners so we were delighted when the popular German live surgery webinar series Sectio Chirurgica chose to use ParticiPoll for a second year running.
ParticiPoll co-founder Ben Ravilious spoke to Sectio Chirurgica organiser Andreas Kramer, medical technologist at the Department of Anatomy, Eberhard-Karls University, Tübingen….
BR: Tell me about Sectio Chirurgica: what its aims are, how it was set up and what response it has had so far.
AK: Currently more than 20,000 medical students have registered for Sectio chirurgica. This estimates as about a quarter of all medical students in Germany. The audience does not just consist of medical students, however, but also of physicians and other medical professionals. Sectio chirurgica aims at embedding classical anatomy into a clinical context, thus presenting exciting interdisciplinary livestreams accessible for free. Obviously, we were able to benefit from the fact that eLearning formats and MOOCs are very "now" and so we received a lot of positive feedback.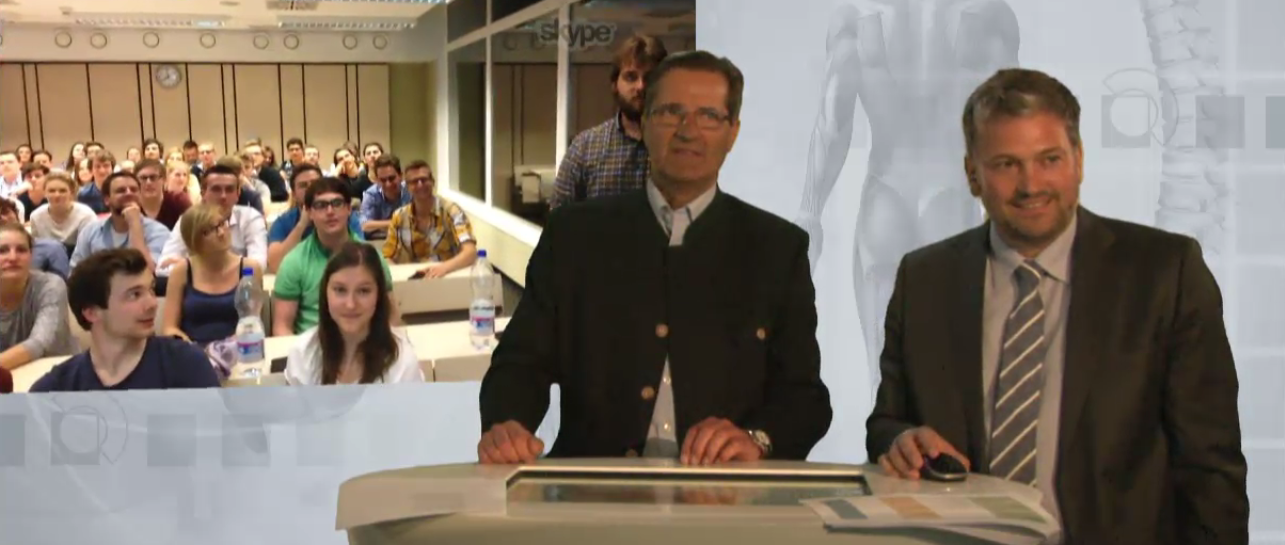 BR: Organising the operating theatre, studio and live streaming must present some challenges – can you tell us a bit about how you bring everything together?
AK: We started producing Sectio chirurgica 8 years ago. In the beginning we only transmitted the surgeries into our own lecture hall. Over the years our own expectations and the expectations of our audience were raised. The idea was born to transmit Sectio chirurgica live via the internet to a broader medical audience. We literally began building our own operating room right in the Department of Anatomy and combined it with modern studio and television technology. One of the main challenges for us as non-specialists was finding partners able to give expert advice as well as long-term support.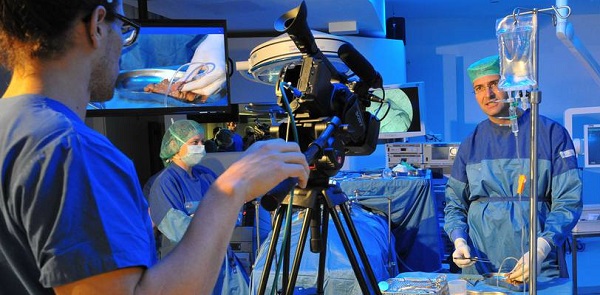 BR: Interaction with the audience is a big part of Sectio Chirurgica – what features did you seek when you were looking for a technical solution?
AK: Yes, interaction is one of the most important features. We do not want the audience to fall asleep staring at their screen or tablet. We developed the Second Stream Screen, derived from Second Screen as known in television. In the S3 we offer the audience additional live-content on a mobile device (tablet or smartphone), i.e. different camera angles and the opportunity to take part in our live-vote. We were particularly concerned with finding 3rd parties offering a finished product we could buy and adapt to our needs. Often this is cheaper than developing a product yourself. Solutions need to be fairly easy to maintain as well as "scalable", since our audience is growing steadily.
BR: What made you choose ParticiPoll and what was your experience of using it in your live show?
AK: We have been looking for a stand-alone voting system for some time. Our first contact with ParticiPoll was very uncomplicated and actually quite friendly. The decision to use the ParticiPoll-system was influenced by how fast and easy it is to create questionnaires and adapt the design. Another important feature was the ability to analyse the voting behaviour of our audience, allowing us to improve the way we use the voting feature. Our audience's feedback was 100% positive, however, we soon realised how important timing is when asking a question in order to be non-disruptive.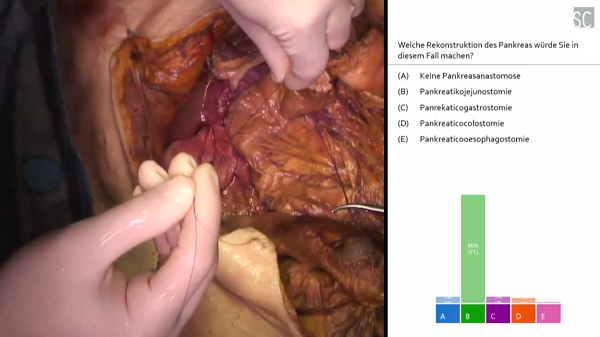 BR: What can we look forward to in the 2016 season of Sectio Chirurgica?
AK: For the new series we built a new and bigger greenscreen studio with a projection surface spanning over 8m. Amazing anatomic pictures, 3D animations and exciting interviews will now be presented in a unique manner. Plus, we will use the live-vote feature even more and allow the audience to actively influence the episode.
The new series begins April 28th 2016 at 6pm CEST. You can register now: www.sectio-chirurgica.de. Access is granted to medical students, physicians and medical professionals.
https://www.participoll.com/wp-content/uploads/2017/05/logo.png
0
0
Ben Ravilious
https://www.participoll.com/wp-content/uploads/2017/05/logo.png
Ben Ravilious
2016-05-06 13:44:30
2018-03-05 12:13:49
Customer Case Study: Sectio Chirurgica Live Surgery Webinar