Hosting a virtual meeting? Want to get your audiences' attention and have them participate and engage from the very beginning? 
As we know, engaging an audience can be challenging, and perhaps even more so now with virtual working becoming the norm. How do you start off your meeting positively and have a memorable impact with your audience?
Kick off your virtual meeting with ParticiPoll, using an Ice-breaker – here's why:
It turns the biggest audience distractor – their mobile phone – into a positive tool right from the very start of the meeting. Getting the audience using their personal device for voting/polling reduces the chances of you losing your audiences' attention by having them check messages/attend to email/surf the web during your meeting.
It gets your audience participating and contributing in the meeting, it's no longer a one-way transaction, and avoids "death by powerpoint".
You can actually measure participation from your audience. If you know how many attendees have signed up for your meeting, your ice-breaker can indicate how many people are participating in it by the voting ticker box on your ice-breaker slide (see the slide below). This gives you an opportunity to gauge participation and when to close the question to display the voting results. 
It gives you an opportunity to get your audience set up for more formal polling later in your presentation, making the rest of your polling sessions more efficient and engaging.
Here's an example icebreaker poll you could run at the start of your presentation.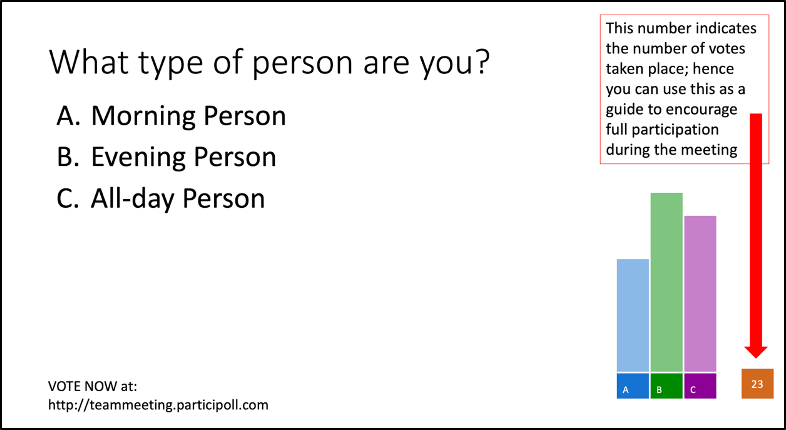 Once you have run this, your audience will be logged into the meeting, using their mobile devices positively, and have demonstrated they are engaged and participating – you now have their attention to proceed to the important content of your presentation!
Want some further ideas for an Ice-breaker? Look out for our upcoming blog post on ice-breakers.
https://www.participoll.com/wp-content/uploads/2017/05/logo.png
0
0
Bobby Chauhan
https://www.participoll.com/wp-content/uploads/2017/05/logo.png
Bobby Chauhan
2020-05-12 12:32:38
2020-05-28 13:55:34
Why Use An Icebreaker?