Your Participoll voting page is unique to you and your presentations and is key to interaction with your audience. Here are some tips to help you get the most out of your voting page during your presentation/meeting.
1. Customise your voting page
Under My Account > Customise you will have access to the Customise Voting Page (below) to brand your voting page. Here you can enter your unique URL, add a logo and edit the colours and language to make your voting page unique to your session.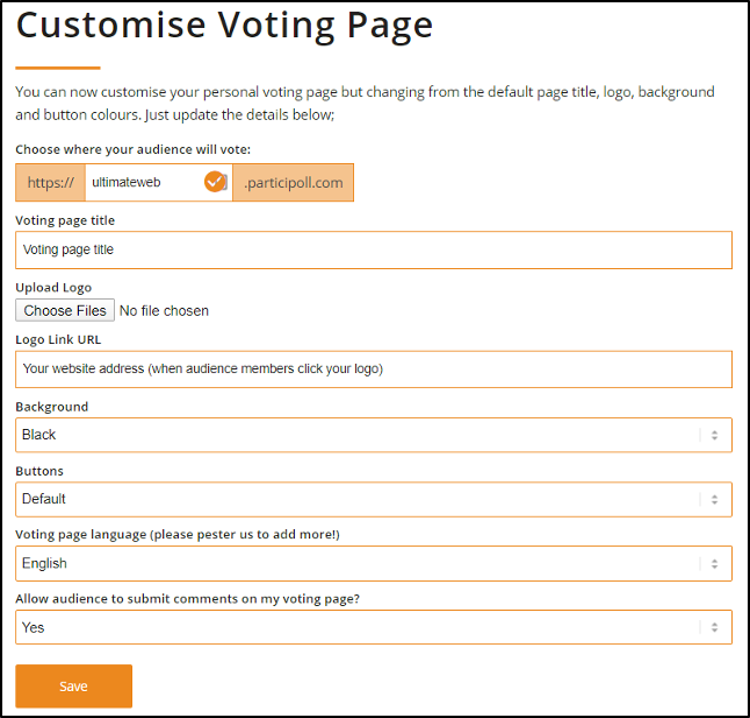 2. Brand your meeting/presentation with a memorable URL
Here are some examples:
http://cardiology.participoll.com

http://scienceisfun.participoll.com
http://timsclass.participoll.com
http://katespoll.participoll.com
http://AprilBLT.participoll.com
http://AHA2020.participoll.com
http://SFEworkshop.participoll.com
http://votehere.participoll.com
http://2020summit.participoll.com
http://TTT.participoll.com
http://HRworkshop.participoll.com
You can choose any available URL you like – but avoid making it too lengthy as shorter is easier for your audience to input into their mobile devices. Note that you can also change it at a later date.
3. Use a "set-up" slide early on in your presentation notifying the audience that an interactive session will be taking place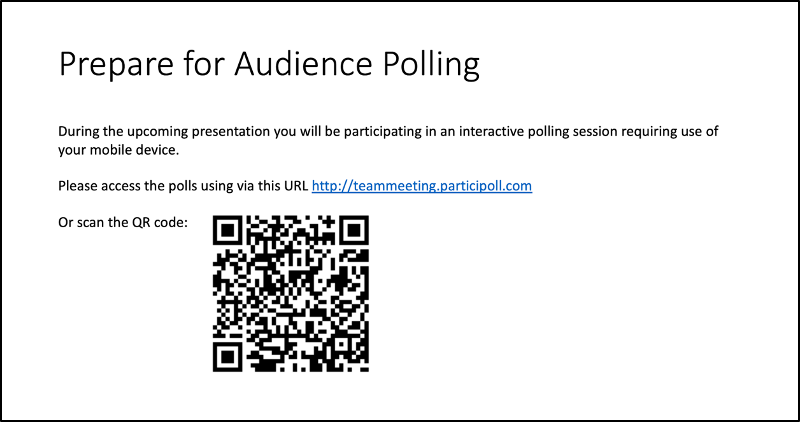 Using the QR code function in Participoll, you can add the URL and QR code into your slide. 
The QR code can be stretched to fill the screen if needed – this helps ensure it can be scanned by audience members right at the back of a big auditorium if you are presenting e.g. at a conference. 
Ensure your voting URL is available on every slide that has a polling question.
4. Launch your meeting with an Ice-breaker
In this way you can get everyone onboard and connected with using your voting page from the very beginning and prevents your audience scrambling for their phones mid-presentation. 
See our previous blog post for some Ice-breaker ideas.
Now you are all set to start your interactive session!
https://www.participoll.com/wp-content/uploads/2017/05/logo.png
0
0
Bobby Chauhan
https://www.participoll.com/wp-content/uploads/2017/05/logo.png
Bobby Chauhan
2020-05-21 13:00:52
2020-05-28 13:37:18
4 Tips To Get The Most Out Of Your ParticiPoll Voting Page