Virtual meetings and presentations are sticking around for a lot longer than we thought. Educators are using Zoom and Microsoft Teams to deliver their teaching and in the office, workers are doing presentations online and are working harder than before to engage their colleagues.
Not to be confused with how to save your PowerPoint presentation as a video, today we're going to explain how to record a PowerPoint presentation.
Step one: Open your presentation
Check your presentation and make sure that there aren't any mistakes in your slides. It's also a good idea to check that your microphone is working before you begin recording.
Step two: Record your presentation
Click the Slide Show tab > Record Slide Show. In Windows, this could also be the Recording tab on the ribbon.

Presenter View (in macOS) or the Recording Window (in Windows Office 365) will then open. You can see how long you have been presenting for, pause and restart the recording and navigate to different slides.
Step three: End the recording
When you've finished your presentation, you can end the recording. To end the recording using Windows and Office 365, click the square stop button. Click End Show if using macOS.
Step four: Review your recording
Before saving your presentation recording, you should watch the recording back to check for any errors.
Check this in Windows Office 365 by clicking the Slide Show tab, then From Beginning or From Current Slide. Alternatively, you can do this in macOS by selecting Play from Start.
Is your presentation as engaging as it could be? If you want to take your presentations to the next level then you need to include your audience. With Participoll, audience polling is an easy way to see what your audience is thinking and see results in real-time – find out how.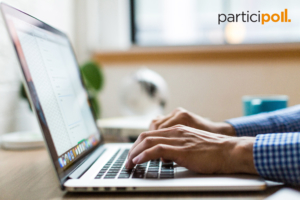 Finally, when you're happy with your recording you can share it for your audience to enjoy whenever they want to! If you found this post useful, you may also enjoy reading our 28 Great PowerPoint Presentation Tips.
https://cdn1.participoll.com/wp-content/uploads/2020/10/16170209/burst-kUqqaRjJuw0-unsplash-scaled.jpg
1706
2560
Leanne Faben
https://www.participoll.com/wp-content/uploads/2017/05/logo.png
Leanne Faben
2020-10-23 10:59:50
2020-11-29 12:09:35
How to Record a PowerPoint Presentation